LOCALLY SOURCED AND HAND CRAFTED
Fore Street is part of a family of restaurants and bakeries that include Street & Company, Scales Restaurant and Standard Baking Company. All are located in Portland.
Fore Street, located one block from the waterfront in Portland's Old Port District, opened in June, 1996.
Fore Street's interior surrounds a unique brick, and soapstone hearth consisting of a wood-burning oven, grill, and turnspit, visible from most tables. Hardwood and apple wood fires cook and flavor the seafood, meats, game, and vegetables that have made Fore Street a New England destination.
In 2001 and 2006, Fore Street was named in Gourmet Magazine's Top Fifty Restaurants of the United States. In 2004, Chef-partner Sam Hayward was named "Best Chef – Northeast" by the James Beard Foundation and in 2011, he won the Chef's Collaborative "Sustainer of the Year" award for his work in sustainability and local food issues. Fore Street has also been a semi-finalist for "Outstanding Restaurant" a national category from the James Beard Foundation consecutive years since 2011.
Phone
(207) 775–2717
Location
288 Fore Street
Portland, Maine
04101
Hours
Su–Th 5:30p–10p
F–Sa 5:30p-10:30p
The Bar Is Open For Beverage Service Beginning At 5pm Daily.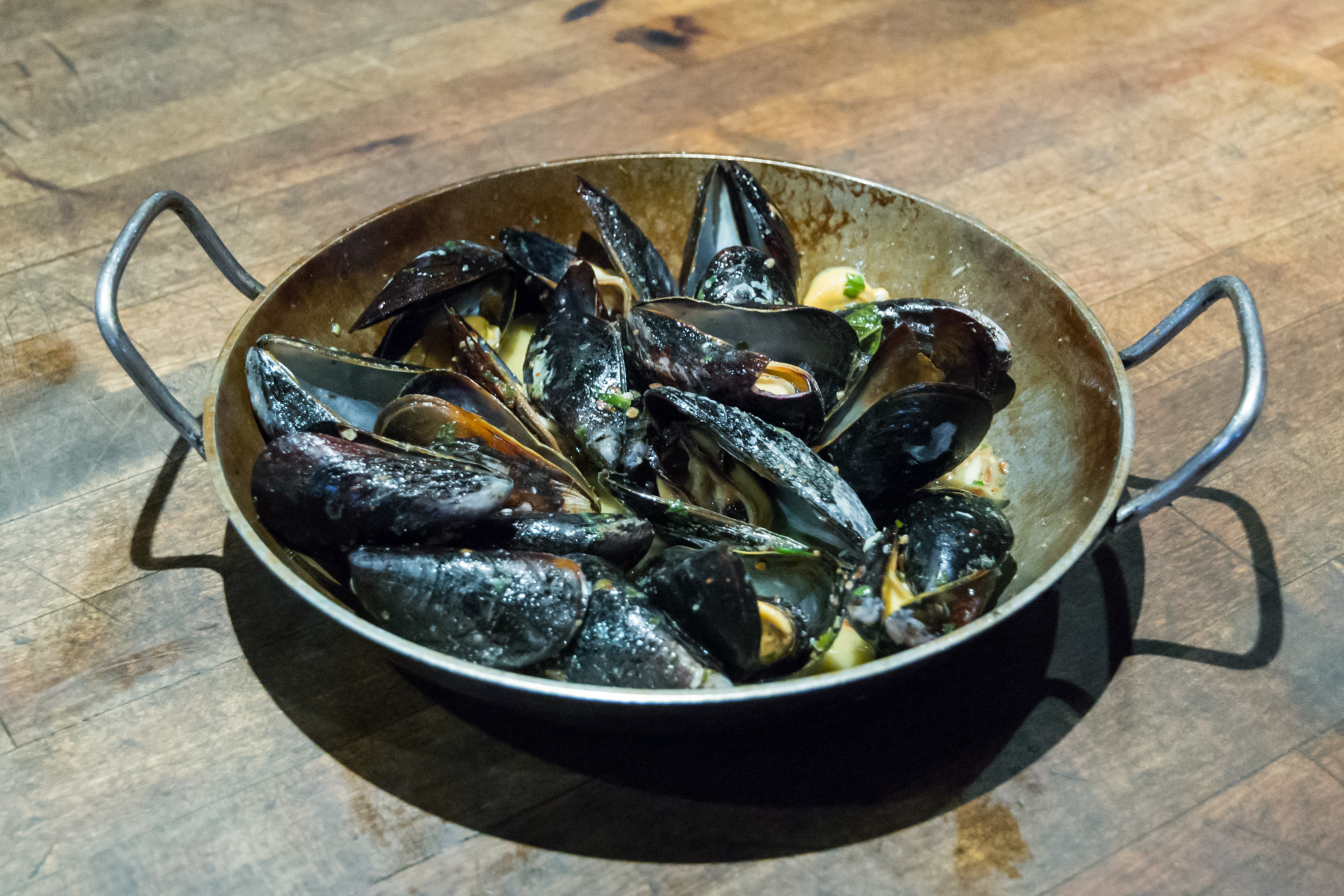 Fore Street's wine list comprises carefully selected wines from around the world. We are pleased to offer classics as well as new discoveries that represent our pursuit of quality, value and an affinity for our food offerings. The most important parameter in selecting wines for our list is that the wine must compliment our menu selections.
Rare, age-worthy wines are laid down in our cellars until fully mature and ready for your consideration and drinking enjoyment. We offer a changing and extensive selection of wines by the glass including ports, sherries, dessert wines and, of course, the noble varietals. In some cases, we know the wine makers and vineyard owners and are able to arrange special purchases for our featured wine-by-the-glass section. Some of these wines are only available to you, in Maine at Fore Street.
Reservations
Fore Street is open for dinner only - year round, seven days a week. The bar opens at five-o'clock p.m. and we begin serving dinner in the dining room and at the bar at five-thirty. We're closed Thanksgiving Day, Christmas Eve, and Christmas Day.

Walk-in tables
While reservations are encouraged, we hold a third of our dining room tables for walk-in guests. Walk-in tables are given out on a first-come, first-served basis, and our hosts begin accepting requests for walk-in tables beginning at five-o'clock p.m. each day from guests arriving in person. Upon arrival, the host will then give an estimated availability time for seating for the next available table to walk-in guests.

In busy summer months, demand for reservations for the most requested times is at its peak, and we encourage you to come in and ask for a walk-in table. Most walk-in guests can be accommodated at some point during the course of the evening.

To request a reservation, please telephone us at 207.775.2717
Reservations are accepted two calendar months in advance year-round.
Our bar opens at five-o'clock p.m. and the full menu is available at the bar beginning at five-thirty p.m. Reservations for the bar are not accepted.
Due to our high phone call and service volume, gift certificates and purchases for guests with reservations can be processed over the phone through our reservationist between the hours of 10:00am and 4:00pm EST. Please note that if you call during service hours (4pm - 11pm), we may not be able to process your request for that evenings service.
33 Wharf St.
Portland, ME 04101
(207) 775-0887
75 Commercial St.
Portland, ME 04101
(207) 773-2112
68 Commercial St.
On Maine Wharf
Portland, ME 04101
(207) 805-0444
Owner: Dana B. Street
Executive Chef/Partner: Samuel F. Hayward
General Manager: Robyn Violette
Kitchen Manager: Ken Thomas
Head Chef: Daniel Young
Sous Chef: Jonathan Veator
Front of House Coordinator: Laura McCauley-Spencer
Assistant Front of House Coordinator: Ashley Belanger
Bar Coordinator/Wine Consultant: David Benson, CS